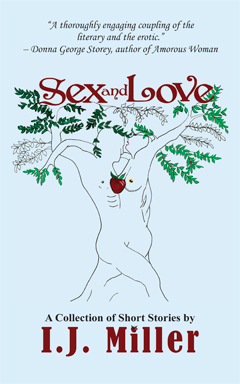 Who doesn't hunger for more sex and love?

In these stories everyone does...
Young, old, male, female, single, married, straight, gay…all the characters in SEX AND LOVE are missing something from their lives and all of their conflicts are rooted in their search for more sex, love, or both.
An intense, erotic ride that has the novel feel of one breathless journey.

---
The Tampa, FL publication Creative Loafing reprinted a story from this collection on 4/3/13. "The Bachelor" blows the lid off of the Florida strip club scene: http://cltampa.com/dailyloaf/archives/2013/04/03/the-bachelor#.UVzCqaKG2Sr

Advance Praise for Sex and Love:


"Miller knows that the hottest characters aren't the ones you want to settle down with—they're the ones who sweet talk you into taking a dangerous, wild ride full of sexual highs that you'll never forget. Both women and men should enjoy this deliciously daredevil story collection."
—Polly Frost, author of Deep Inside and Sex Scenes

"Sex and Love is a beautiful collection. With a sensitive eye and a steady hand, I.J. Miller brings to life ambivalence and ambiguity, emotional complexity and moral perplexity, transforming these raw materials into unforgettable narratives about our most intimate quests. I got lost in these masterfully rendered stories and found the characters living in my consciousness days later."
—Jeremy Edwards, author of Spark My Moment

"Sex and Love is a witty and unflinchingly honest look at sexual desire in all its marvelous variety. With sharp, skillful prose, I.J. Miller creates characters who are tough, human, and always ready to surprise. A thoroughly engaging coupling of the literary and the erotic."
—Donna George Storey, author of Amorous Woman

"Sex and Love is both engaging and provocative. Miller has a unique way of effortlessly leading the reader along a path full of seductive and dramatic turns that ultimately allows—through a litany of questions, irony, and intrigue—one's own imagination to envision where the characters and stories eventually come to rest."
—Rob Polishook, Mental Training Coach, Inside the Zone Sports Performance Group


Reviews...

Amos Lassen review blog: "I.J. Miller writes about real people and gives us some of the finest literary erotica that I have read in a long time." http://reviewsbyamoslassen.com/?p=22498

Reading with Analysis (includes author interview): "I loved this short story collection...
I

felt like the worst (and best) kind of voyeur jumping into these characters' minds, shouldering up to their flaws, bathing in their hopes and dreams...

I highly recommend this collection to anyone who enjoys short stories and would enjoy a literary view of the world." http://readingwithanalysis.wordpress.com/2013/05/04/author-i-j-miller-and-i-look-at-erotica-from-both-sides-now/

Erotica Revealed: "I'm going to let the cat out of the bag right off and say that, with Sex and Love, I.J. Miller has written some of the best literary erotica I've yet to come across. For me, character and narrative are king (and queen) of my enjoyment of a short story. In Miller's collection, almost every story has a captivating character (or two) and a narrative that takes you on a journey you look forward to completing. Miller completely charmed me, and I look forward to more of his work."

Bookwenches.com: "All of the characters in each story are complex people who have intricate emotions; it's almost like the author wrote about people I know and interact with every day, because the emotions are so real and raw. There are layers of reasoning behind what the people in these stories do; nothing is ever simple or predictable, which is why this book is so great. Sex and Love takes an honest look into the psyche of what people do and why they do it. It has a tale for everyone and about everyone. I dare you to read it and not see a little of yourself or a friend of yours in one of these stories. (Five out of five stars!)

Erotica for the Big Brain: "There is some very fine, imaginative writing here, and the author always trusts his readers' intelligence...One hears endearing echoes of John Cheever in the way Miller presents his characters' backstories; the way their rather conventional aspirations are explored, the very ordinariness of their dreams...Throughout Sex and Love, Miller demonstrates a talent for probing psychological complexity, often revealing the pain and poetry of dysfunction in surprisingly entertaining ways."

Corinne Victoria Review: "I. J. Miller is an exceptionally gifted writer. It's not an understatement to call his collection of short stories LITERARY erotica. I loved Sex and Love so much that I read it twice - the first time to read well-told stories, the second time to digest and understand them. The collection is an insightful analysis of the human condition and explores the deep recesses of the mind...It's the kind of book that has something for everyone and I wholeheartedly recommend it."

Midwest Book Review: "SEX AND LOVE is an excellent collection, very much recommended reading for short fiction fans." (Five out of five stars!)

The Forbidden Bookshelf: "Once I got to the short Single Woman, I was hooked and never stopped reading. Single Woman is the type of short story that you do not want to end. It starts off chick lit and then gracefully moves to a yearning, then to a one-night stand, to another one-night stand, to guilt and remorse to full on infidelity, breaking up, family issues and then to the end. I was actually hoping for an epilogue but the author did end it appropriately. The other stories that follow Single Woman are just as good and leave the reader wanting more."


The Stories...
LONELY MAN
finds a 30 year old man alone in New York City, in bed with his ex-girl friend, as she holds him hostage with a knife.
The "lethargy of the unguided..." It's what those of us have who didn't get into something like medical school, who disappointed their parents, who hold onto "temporary" hospital secretarial jobs for eight years and tell people we're office managers with great benefits, who find relationships in New York City to be an ongoing series of mishits and pratfalls, like bumbling through an obstacle course that is completely circular but you don't even realize it until you've gone around five or six times but by then you don't know how to get off.
CELL
is about a Manhattan girl in her late twenties who boys won't keep.
In my early twenties I let it swarm over me and carry me into a grateful rush during the times a boy got it right, or the chemistry seemed to be there, or my feelings were just too strong.

But I've learned.

After the fuck can be danger time.

After the fuck is when you find out what really went on.
THINGS WE SHOULDN'T DO
tells the story of a married man who discovers his wife's infidelity on the same day her tests come back positive with breast cancer.
Of course he should've stormed into the room with the classic anger of the cuckolded husband, put a stop to the encounter, thrown Al out of the house, and told
Erin
everything he thought of her and this unbelievable violation of their marriage vows.
But how embarrassing for all three of them to be caught in the midst of such a bizarre mid-morning act.

The reality of it did not compute.

He shouldn't have been there.

He should've been at least five miles into his run
.
THE PROFESSOR AND THE BIKER CHICK
reveals a lonely, divorced, myopic university English teacher in his late fifties who tries to hold off the heavy duty seduction attempts by one of his students.

Then she slowly began to squeeze each nipple between the fingers, as if she were cutting paper.

She teased and rubbed her nipples like that until they became enlarged.

Then she dropped her skirt, pantiless, and faced him with only the cross and the cobra.

A reddish tattoo of spit flew from the snake's mouth.

Still without speaking, she continued to make every horny, college co-ed fantasy he ever had come true.

SINGLE WOMAN
portraits a woman torn between her engagement to her boring but stable boy friend and an anonymous affair with a passionate but aloof older man.

"You horny vixen.

You trollop.

What's his name?""David.""What does he do?" implores Ruta.

"Where does he live?

What's his last name?""David I don't know."They're off into a new burst of giggles."Wasn't there any stray mail lying around?" asks Ruta, "a name on the door?""I didn't look.""Leigh, this fuck's so zipless it's practically illegal.""I'm so wanton I should be on the menu of a Chinese restaurant!"
CYBERSLUT
is about a married, middle-aged, unpublished writer in a loveless marriage who seeks an escape with his cyber persona in romance chat rooms.
So many marvel at the images I make them see, the way I tease, prolong, dominate, make them give themselves up in a total act of submission that always seems to surprise them.

Why should it?

Everyone in every romance chat room is missing something from their lives.

And on line the cocks are always hard, the pussies always wet, no one farts in bed, you can leave when it's over without apology, and everyone always cums, at least they say they do.
THE TENNIS PRO
depicts a married woman transformed by the erotic temptation of her daughter's instructor.
She'd like to get on the phone and let her best friend know that at forty-one, just when she is sure an era of expectation, delight, intrigue—that started in adolescence—is officially dead, buried, gone, she discovers that there may be some out-of-control hormones remaining, leaving the pleasant thought inside her mind that she still has the potential to percolate.
THE BACHELOR
is about a conservative, loyal man, about to get married, who gets taken on a wild ride by a devilish, sexy stripper who has the angel wondering if he has finally found his right time and place.
Adam had summed it up perfectly at dinner.

"A fantasy.

A carnival.

Disney World with babes.

Enjoy it.

Let go.

But don't ever forget….You're just an ATM machine and it's the girl's job to figure out what buttons to push so the money comes out."
HUSBAND AND WIFE
details a young couple, with one son, who are deeply in love, who have one tiny pea at the bottom of their mattress…sex.
I believe it is a man/woman thing, a distinct difference in how we think, perceive that gives an edge to any heterosexual relationship, perhaps a trick from the being upstairs that knocks the wheels off the track, unhinges the door, dries up the grease on the axle and must be the source of someone's great amusement, certainly not ours.
WINTER HEALING
maps the journey of an unhappy man who gives up his therapist practice and connects in an isolated winter rental with an ex-scientist, lesbian woman who has also packed it in.
The therapist in me wanted to follow, to pull up a chair beside her bed, and let her talk it through until she felt better, gained some perspective on the visit.The horny man in me wanted to follow her in, explain that we had moved onto oils and soothing foot massages in my class, and seduce her into wanting me as I touched every vulnerable spot.The companion in me was kind of pissed.

I was so very available to her when she needed me, yet she could so easily shut me out.
ATTRACTION
is about a husband and wife who, while attempting to spice things up on their anniversary at a sex motel, unexpectedly discover the true depth of their attraction.
The night of our wedding, my matron of honor told me there are three stages of love you go through before you know the honeymoon is over.

During the first stage, early in the marriage, the husband does his best to stifle any farts, to keep them silent.

As time goes on, he might let one rip and smile sheepishly, or apologize.

Stage three is when he loudly passes gas and you both go on as if nothing happened.
LONGING
follows an engaged man compelled to visit his gay roommate from summer camp before he can get married.
"Eric, let's not be frivolous here.

There is always some risk, you won't be able to give blood ever again, you'll feel compelled to tell Karen."

Trying to be lighthearted, "And you may end up liking it so much it will ruin your rosy little path."From the couch I say to him, "I've thought about all that, believe me, yet I'm still here finishing up a 15 year old conversation."