SEESAW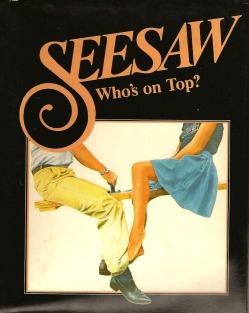 Arnie Lester is a twenty-five year old, high school English teacher, far from home, teaching in a small Pacific Northwest town.
Lonely and isolated?
Yes.
Unpopular?
No.
His boyish good looks, east coast charm, and authoritative manner in class make him a standout among the students, particularly the older girls, who flirt unabashedly with the teacher who has never worn a trucker hat and wouldn't know Dairy Queen from Prom Queen.
Arnie resists their temptations good naturedly, enjoying the attention, but is intent upon remaining professional…until Annie Alston comes along: uninhibited, bold, athletic, bored with high school boys, mature beyond her years…in some ways.
With supreme carnal aggression, Annie casts out her net, intent upon reeling in the prize catch.
What follows is an up and down, forbidden journey where power shifts, layers peel back, and the final temptation threatens to push them both beyond the brink…
SEESAW!
---
Praise for Seesaw
"Seesaw is a delightfully comic, androgynous ramble through the sexual thickets of one man's fantasy come true."
—William W. Starr, The State (Columbia, SC)

"Sharply humorous at times, [Seesaw] is a valiant attempt at exploring character and obsession."
—Publisher's Weekly

"The significance of Nabokov's Lolita with the punch value of Philip Roth's Portnoy's Complaint …. [Miller] does succeed in portraying a delicate, highly charged relationship. Neither character is unrealistic, and both are well drawn. Lester is believable because he seems so much an everyman, part philosopher, part nebbish and, like many men, preoccupied with sexual success and failure …."
--The Oregonian

"Miller has written a steamy, seamy account of a sexual relationship that is explored and detailed so fully that the heat seems to rise from the pages."
--West Coast Review of Books